Promotional Leave Behinds For Meetings
So you have a B2B meeting coming up and want to leave a longer impression than the business card exchange. Our customers have been getting lasting brand impressions from promotional leave behinds that are some of the most popular products we logo. Adding an item to a meeting can seem forceful or suggestive, but when it's something useful in every life, it becomes a valuable item for your potential client AND it has your name on it.
What promotional leave behinds will add the most value? Consider these five consistent performers.
Promotional Pens
The biggest performer for promotional leave behinds is pens. Consider how often you lose a pen, need a pen, or find one rolling around in your back seat. Everyone uses pens, at work and at home. Although your customer may not be registering your name and logo every time they use it, the brand is still getting an impression. Studies have shown that an average pen provides 3,300 impressions. Sounds crazy, right? To put it simply, pens are the go-to promotional item for B2B.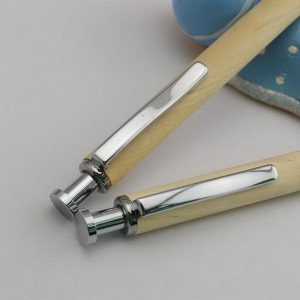 Recyclable Material Pens
They are inexpensive to brand and purchase.
You can easily buy them in bulk and get rid of them at every event you attend.
They are always in need, and won't go out of style.
One suggestion is to choose a quality pen that will become a "favorite". The right pen will have your potential client begging for more the next time you see them.
Business Travel Mugs
What does every one need? Coffee in the morning. And who do you want your customers to wake up with? You, of course. Give them a reason to remember who you are every morning as they savor their first cup of coffee and truck off for another work day. Travel mugs are an excellent middle of the road promotional choice.
They aren't going to cost too much, though they'll be more expensive than pens.
They're used daily, giving you the most brand exposure – to them, their co-workers, fellow morning travelers, and more.
They'll last a long time. It is highly unlikely that people will throw out custom printed travel mugs.
Company Lip Balm
When your lips are burning from too much sun exposure or a bad case of chapped lips, lip balm is a necessity. Its small form and practicality makes branded lip balm a promotional winner.
You can choose different flavors to satisfy every customer's preference.
You can show your eco-friendly side with natural or organic beeswax lip balm.
You can pick an SPF lip balm for even more added-value.
An excellent choice in summer or winter!
Corporate Branded Umbrella
Don't let anyone rain on your customer's parade by giving them an umbrella. The beauty of a promotional umbrella is that doesn't matter what your target audience is because if someone needs an umbrella, they will use the umbrella!
You'll get maximum exposure, as your logo is always in site when the umbrella is being used.
You can utilize as much or as little space as you want for logo, slogan, etc.
This is a necessary accessory for almost everyone.
Calendars
The infographic below suggests that tote bags win by a long shot for brand impressions per dollar. But for promotional leave behinds, calendars are a close 3rd.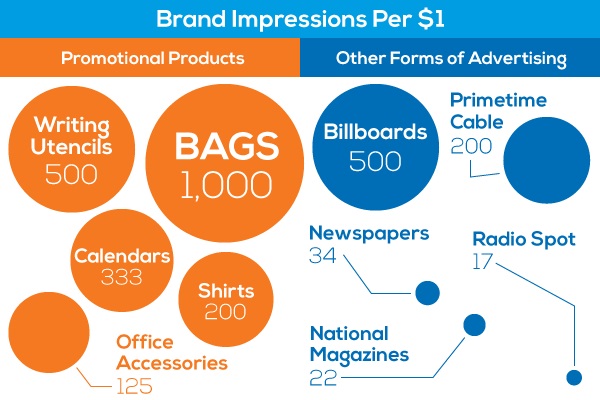 from Quality Logo Products (2014)
There are a lot of reasons calendars are still so popular.
They are useful and a mainstay in just about every office across the country.
You can customize a calendar to have fresh content impressions each month.
If it looks good, it can become an enhancing, feel-good addition to an office or common space.
A calendar gives you spot on the wall that takes the space of a competitor. Your brand is front and center each work day.
Choosing the right promotional leave behind will determine how cost effective the promotion was. When you choose items that add high value to your customers, you can be sure that they'll use them. This gives you a greater opportunity to get recognition, brand impressions and loyal customers.
ABOUT US
Think it Then ink it is a promotional products and branded apparel company in Verona, WI. We build brands with logoed corporate, team, and event products from our vertically integrated design and fulfillment center. One of our unique capabilities is our specialized corporate branded stocking program that provides on-demand access to your customized products. Find out about our custom web apparel stores or available products and services at ThinkitTheninkit.com or call us at 608-845-5300.