Hooper Corporation Employee Safety Rewards Program
Rewarding Employees for Safe Work Practices
CLIENT: Hooper Corporation
CHALLENGE: Promote top-of-mind safe work environment for staff
SOLUTION: Think it Then ink it Safety Rewards Online Store
RESULTS: A managed product and apparel store organized to allow employees to redeem points for awarded for safe practices.
The Challenge
Hooper Corporation was looking for a way to increase safety awareness and promote a core value of their business by incentivizing safe work practices. The client's initial motivation was to make their safety program more prominent in corporate culture. Safety programs for contractors are continually looking for innovative ways to stay fresh and relevant and the client felt a need to seek out a new motivation through desirable products and apparel.
The Solution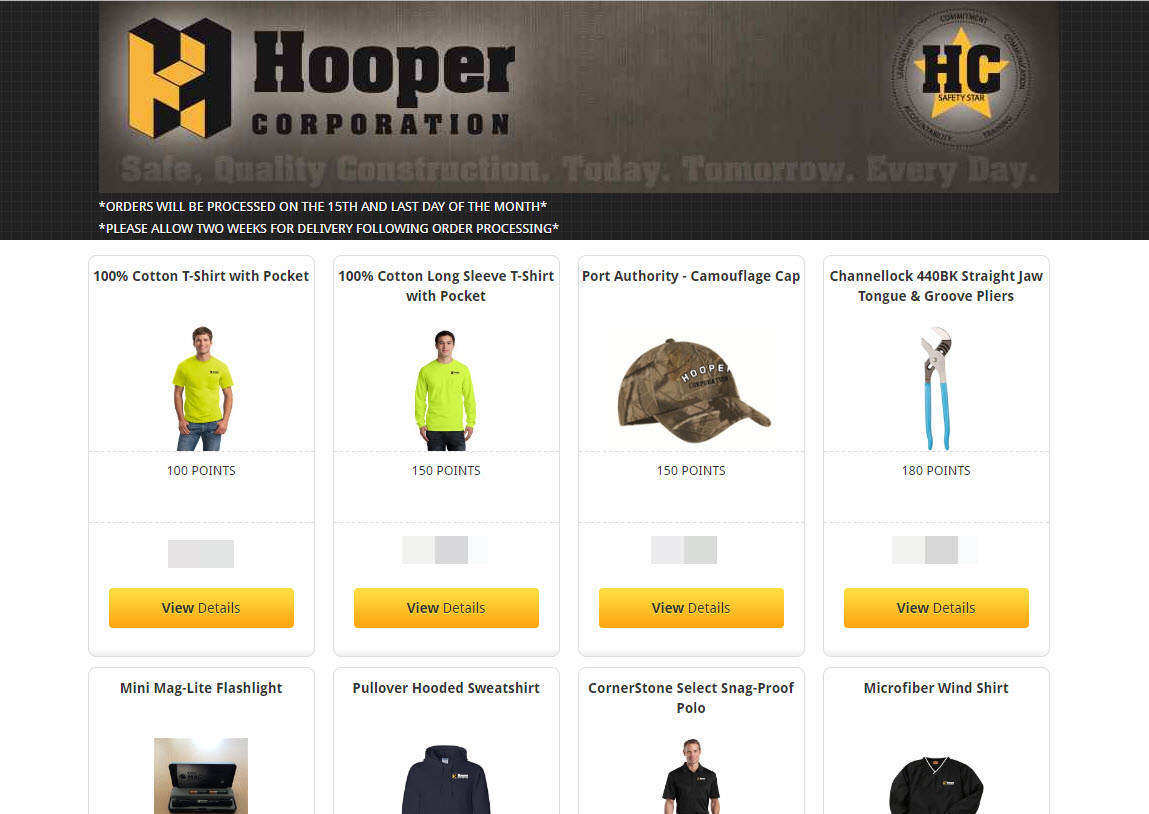 Think it Then ink it worked with Hooper Corporation to select the most appealing products for employees. A points-based rewards system was developed that awards points to employees for safe days worked. We then worked to develop a managed store that allowed points to be applied to purchases for selected products.
We deliberately chose products that would supplement work gear (something that could be worn as part of a uniform) or be a useful tool for furthering the safety program goals. Favorite products include a high-visibility jacket, waterproof gloves, and a branded mag-lite.
The store is designed to take responsibilities off of an HR Manager or Safety Director by processing orders once a month and providing a report of purchases with points and prices to allow for payroll deductions. Alternatively an employee could make a purchase from the safety store directly by credit card.
Overall, the safety apparel and branded products store has been successful in supplementing a safety first program. The field staff culture has re-engaged with the program and internal competition for safe days worked is keeping safety top-of-mind.
Safety First Gear
Creating products with a certain appeal and durability was really important for the project. We selected products that had a high level of quality and performance.
Some products are direct printed with the corporate logo and most apparel items are embroidered.
The entire product and apparel catalog includes:
BRANDED APPAREL
High-Visibility Pocket T-Shirt
High-Visibility Long Sleeve T-Shirt
Camouflage Baseball Hat
Pullover Hooded Sweatshirt
Snag-proof Polo
Microfiber Windshirt
1/4 Zip Pullover
High-Visibility Bomber Jacket
BRANDED PRODUCTS
Channellock Pliers
Stabilia Torpedo Level
Waterproof Gloves
Multi-tool
NEOS Explorer Boots
Mini Mag-lite Flashlight
About Hooper Corporation
For more than 100 years, Hooper Corporation has been providing specialty construction services across the U.S. from their Madison, WI location. As a goals-driven organization, Hooper rallies around corporate citizenship, doing things the right way, and safety as some of their core values. As a full-service electrical and mechanical contractor, their employees live up to those values to deliver customer satisfaction on every project. Their corporate mission statement is: Safe, Quality Construction. Today. Tomorrow. Every Day.
About Think it Then ink it
Think it Then ink it is a promotional products and branded apparel fulfillment house located in Verona, WI. Starting with an eye for design and with a full complement of in-house screen printing and embroidery services, Think it Then ink it is the go-to supplier in the Madison area. With a focus on Team Apparel, Corporate Apparel and Promotional Products, School Spiritwear, Race and Eventwear, and Corporate Fulfillment Programs, Think it Then ink it completes the conversion from idea to reality.
From promotional giveaways to team web stores, Think it Then ink it is the proven leader for unique and engaging designs that can immediately make brand impressions. Clients big and small choose Think it Then ink it to supply products and apparel on budget and on time.