10 New Promo Products from PPAI 2018
Anyone looking for cutting edge promotional product ideas should walk the aisles of the annual PPAI Expo. We had that chance last month to fall in love with some great new ideas for promo gear and apparel and we want to share them with you. Below are our ten favorite products from the 2018 PPAI Expo.
1. Wind Chimes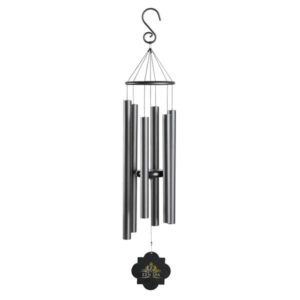 Want a totally different gift for the home that will remind your clients of you every time the wind blows?  These cool new wind chimes might be a hit!  The tones are very soothing and mild.  Very interesting gift that will be music to your clients ears.
2. Cut Maps – Wooden Maps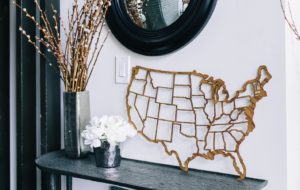 Cut Maps are 3D street maps of the world's most memorable places. Whether it's the town where you grew up, the place where you live now, your favorite vacation spot, or the city you long to visit, these beautiful wall pieces allow you to bring those memories out and put them on display. It was great to see these at the PPAI show this year.
Find out more at: https://www.cutmaps.com/
3. Bluetooth Flower Pot w/ Speaker
This product takes gardening to a whole new level. This 4-in-1 plant pot by Symbio includes a Bluetooth speaker and a multicolor LED light. You can either connect your phone to the pot's Bluetooth speaker and jam out to your own music, or – and this is the cool part – you can touch the leaves of the plant to create your own melody! The pot features a Piano Play Touch that allows you to connect with your inner Mozart. The multicolored LED light in the pot also brings some ambiance to any room. The product comes with a charging cable and a user manual. It only takes four hours to charge and has a playing time of eight to ten hours!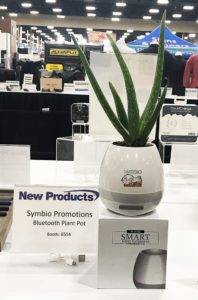 This pot takes such an unexpected twist on the regular potted plant. Why have a regular plant when this one can play your music, too? Here's a video of this pot in action.
4. Beer Blizzards
These Beer Blizzards by Best Promotions, Inc. just made summer a lot more enjoyable. The Beer Blizzard is a reusable, plastic, dome-shaped ice cube that's designed to fit the bottom of an aluminum can. All you do is freeze it and then stick it to the bottom of a can under a beverage insulator. Whether you're enjoying a nice beer by the pool or drinking a soda at a kid's soccer game, the CAB-certified Beer Blizzard will keep your drink cool for a solid 21 minutes.
This product is brand new to the public and is such a clever product that makes a great addition to the classic beverage insulator. Beer Blizzards are clever promotional products for bars or restaurants.
5. Custom Design Video Card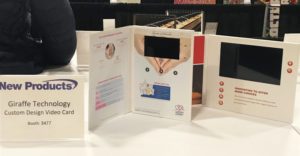 Videos are marketing departments' all-stars and it's no secret that the use of video in content is on the rise and not a tactic that should be taken lightly. These super trendy video cards from Giraffe Technology can make a potentially HUGE statement. Buttons, memory, material, and power adapter are all options that you can tailor to your specific needs. The HD screen is a unique viewing experience that makes your company memorable. How fun would these be for a new product reveal, an event invitation, a realtor, or a spa to list their services?
6. Custom Luggage Tags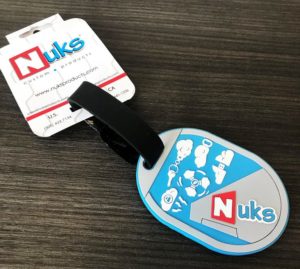 Nothing says "international" quite like luggage tags. These high-quality, heavy, luggage tags from Nuks will definitely turn heads. I know what you're thinking: "What makes these luggage tags so different?" These tags add customization options you didn't even think you could add. Why not add a touch of scent? Or you can also add glitter print and even have your product glow in the dark. Because being ordinary is so 2017. Nuks also creates custom USB drives, custom-shaped Bluetooth speakers, power banks, keychains and more. Nuks brings personality and creativity to your client's campaign to give them the results they want.
7 Sigg Water Bottle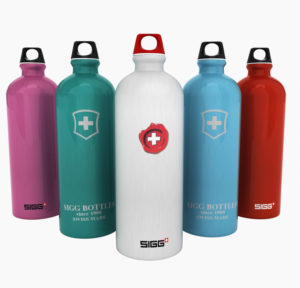 The Sigg Water Bottle by Clearmount Plastics Ltd takes a fresh new meaning on the phrase "making your logo pop." Demonstrated by our friend, Kate, this new water bottle features 3-D printing. Seeing a logo is one thing, but when you can actually feel the logo, it's hard not to remember that product. Another great thing about these water bottles is that you can use them across countless industries. Hosting a local fun run? Sigg Water Bottle. Trying to instill healthy habits in your employees? Sigg Water Bottle. Marketing the opening of a new gym? Sigg Water Bottle. This promotional product is versatile and a great addition to any marketing campaign.
8. Customizable Candy Box Sets
Meet the candy for grown-ups. And we're not talking about your everyday Twizzlers or Hershey's bars. Sugarfina has collected the finest, high-quality sweets from around the world and added a special twist. This gourmet candy is infused with your choice of alcohol. These trending gummies and chocolates have been popping up all over the US and Canada in popular boutiques and large retail stores. Beyond the delicious candy, the packaging of this product is what makes it a first-rate giveaway.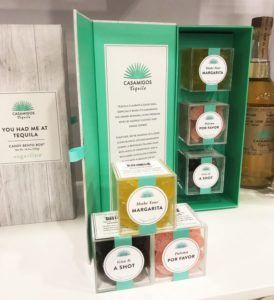 You can customize the candy cubes with a label that matches your client's campaign, as well as the outside packaging of their Candy Bento Boxes©. If you want to add a personal touch to this product, you can include a custom printed message on an insert card that's tucked inside the Candy Bento Box. These are a perfect giveaway for company tradeshows, special events, and retreats.
9. Packable Down Jacket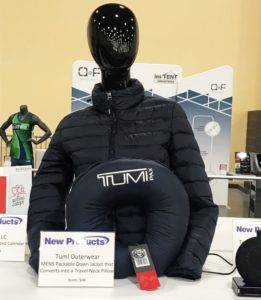 Who doesn't love a multi-purpose product? This down jacket by Tumi Outerwear converts to a travel neck pillow through a hidden pouch in the collar. Made from lightweight, water-resistant nylon and filled with down insulation, it has engineered seams to give it shape. This innovative jacket is the perfect companion for any weary traveler. Whether your client works for an airline or wants to give their traveling salespeople an appreciation gift, this packable down jacket is a unique product to bring to the table.
10. Washable Kraft Paper Bag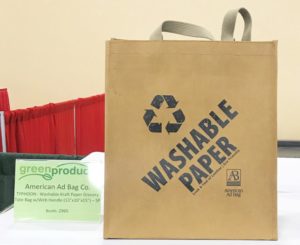 Sometimes, doing your part for the environment doesn't have to be a monumental task. It can be as simple as carrying your belongings in the Washable Kraft Paper Bag by American Ad Bag Co. This eco-friendly bag features crisp fold lines, elegant kraft colored stitching, and natural-colored web handles. Grocery stores, bookstores, or any retail shops can use these durable bags as a way to promote their devotion to saving the environment.
ABOUT US
Think it Then ink it is a promotional products and branded apparel company in the Madison area. We build brands with logoed corporate, team, and event products from our vertically integrated design and fulfillment center. One of our unique capabilities is our specialized corporate branded stocking program that provides on-demand access to your customized products. Find out about our custom web apparel stores or available products and services at ThinkitTheninkit.com or call us at 608-845-5300.