Top 10 Hot New Promotional Items of 2018
Looking for the top promotional items of 2018? Look no further. Our team has scoured through thousands of products to discover what we consider to be 10 of the best promotional products to watch this year.
Kronies | Wireless Earbuds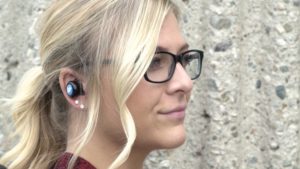 One of the coolest promotional products of 2018 is going to be the Kronies – Wireless Earbuds. With Apple eliminating the earphone plug on the latest iPhones, it is clear that the future is wireless bluetooth earbuds!  Why do we love the Kronies? Excellent quality results in crisp and clear sound from the built-in microphone. Plus, they are lightweight and portable. Most importantly – they are a great way to show off your brand or logo with a full color digital imprint.  Some of the features include 33 foot wireless range, up to 3 hours of playtime, and a built-in microphone.  How can you use the Kronies in your next promotional marketing campaign? We see the Kronies as excellent corporate VIP gifts as well as great employee on-boarding gifts. Custom packaging is also available at higher quantities!
Bella + Canvas New Black Heather

Last year, Los Angeles based apparel maker Bella + Canvas introduced the world's first true Black Heather fabric. The new material has taken the apparel industry by storm! 
Black Heather
 is super-soft and made with a high content of 100% combed and ring-spun cotton. Not only does it look amazing, but it is also great for discharge printing (which removes the dye from the fabric and allows for a soft retail imprint).  Why did we pick Black Heather as a best branded apparel item of 2018?  More and more companies are looking to create retail/fashion looks for their promotional apparel to attract millennials.  The Black Heather t-shirt is not only excellent in quality, but a great value for helping to achieve a high-end retail look.
Premio Click | Remote Control Camera Shutter

The days of the selfie stick are numbered. The 
Premio Click
 is a cool alternative to cell phone photo taking in 2018.  It uses bluetooth technology to remotely control the shutter of your phone's camera. With the Premio Click, the possibilities are endless – even start and stop video recording with a click of the remote control. We also love the Premio Click for its great imprint area and full color imprint capability. Not to mention its ultra cool retail custom packaging. But what makes the Premio Click one of the best promotional items is the ability to utilize it to grow your social media following! Give out the Premio Click at your next big event and make sure to have it imprinted with your event's hashtag. Then watch your followers grow as they take photos using the 
Premio Click
 and use your hashtag to join your contest or promotion.
Beagle | Bluetooth Tracker

Life can be busy and chaotic – and it can be easy to lose track of our most important items. The 
Beagle Bluetooth Tracker
 is the perfect answer for those who need a little extra help keeping track. It is a small bluetooth tracking device that can help you find items as well as alert you when an item is moving away! The Beagle & Beagle app alert you when you may be leaving without your most important items or map the location they were last tracked. This bluetooth tracker is great for keys, wallets, luggage, laptops and more! The 
Beagle
 is a great tech giveaway because of its awesome full color imprint and custom packaging options. It is definitely one of the best promotional items of 2018!
Ninja Loop | Phone Strap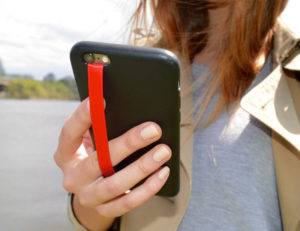 The Ninja Loop
 is one of our best promotional items of 2018 because there's finally a phone product that could dethrone the Pop Socket.It is a fabric strap for cell phone cases to help hold on to your phone. Who doesn't need help to prevent from dropping their smartphone? Plus it is a great way to put your brand right at the center of everyone's day. Did you know that the average mobile phone user is on their smartphone nearly 100 times per day? Talk about a lot of impressions!  With its low price point, we see the Ninja Loop as the perfect giveaway for conventions, events, trade shows and more! It is definitely one of our favorite tech accessories of 2018!
The RuMe Medium Tote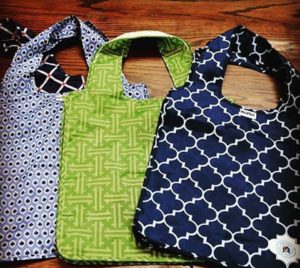 Tote bags are one of our favorite promotional items. Why? They are extremely practical and get a high number of impressions, especially if they are high quality. We've selected the 
RuMe Medium Tote
 bag as one of the best promotional items of 2018 not only for its practicality, but because of its high-end retail look at an affordable price. Available in a wide assortment of patterns and colors, the RuMe Classic Medium Tote is a great promotional gift or giveaway for young millennial women. It is small enough to stow anywhere when compacted, and big enough to hold up to 50 lbs. And it is made from a machine washable durable polyester fabric!  The RuMe Classic Medium Tote is a bag every woman will want to hold on to.  Plus it is a very fashionable way to showcase your brand!
Strideline Custom Socks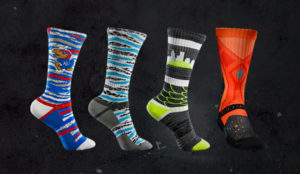 Did you know that custom socks were one of the biggest trends in promotional products last year? Well, we don't see this trend going anywhere anytime soon.  Especially not with custom socks by Strideline!  Why do we think 
Strideline custom socks
 are one of the best promotional items of 2018? Strideline custom socks are not only a great quality sock, but their patented digital printing method makes your branding really stand out! Most promotional socks are sublimated and not comfortable to wear. Strideline custom socks on the other hand have been called "the most comfortable socks on earth."  With a competitive price and low minimum quantities, we see these custom socks as excellent corporate and VIP gifts for all types of sporting events and fundraisers from golf tournaments to basketball tournaments.
Creative Spark Journal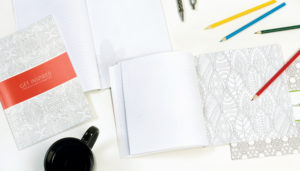 Adult coloring books were definitely a huge trend in 2017 – and we don't see it stopping in 2018. We've selected the 
Creative Spark Journal
 by JournalBooks as one of the best promotional items of 2018 because it is really a step up from a plain old adult coloring book. The Creative Spark Journal features flexible, wraparound paper covers  printed in full-color on entire outer cover on uncoated cover stock. We also really love the predesigned filler options, which are available in an Organic or Geometric theme. Each theme features a mix of motivational quotes, lined, dotted or blank sheets and coloring pages. It's even easy to add to theme with your own quotes, images or logos. If you want a really custom option, you can even customize all 30 sheets!
Luxury Virtual Reality Headset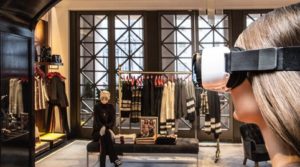 One of the biggest lessons from 
CES over the past few years
: Virtual Reality (VR) technology will change daily human experiences in the coming decade. Although Virtual Reality has yet to go completely mainstream, every day new VR apps are popping up and companies like Google are launching their own VR headsets. While creating a truly custom VR headset is outside of the reach and scope of most businesses, we believe promotional Virtual Reality headsets are a great corporate gift for major technology events and summits. Chances are virtually (no pun intended) everyone will keep a custom branded VR headset. We like this Luxury Virtual Reality Headset for its comfort and large imprint area. Despite its luxury design, it is affordable (starting at $14.98) and available at low quantities. That's what makes this VR headset one of the best promotional items of 2018.
Inflatable Branded Couch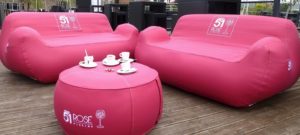 This Inflatable Branded Sofa is definitely one of the best promotional items of 2018. If you are looking for a bold and creative way to showcase your brand at your next event, this branded couch is it. The sky is the limit with the ability for a full color, all over digital imprint. We see the branded sofa being used at festivals, sporting events and upscale corporate events. With custom branded ottomans and love seats also available, you have everything you need to create a custom branded lounge for your next event.