4th of July Celebration Promotional Products
It's 4th of July time, which means you're out of time to order promotional products for Independence Day events! We wanted to highlight some featured products Made in the USA to celebrate the occasion. Forth of July can be a great time for celebration…with the right gear! Here's a list of a few patriotic promotional products that will make your Independence Day event worthy of celebration.
1. Patriotic Sunglasses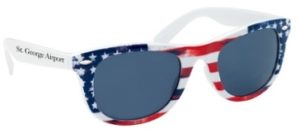 There's no doubt you'll be out in the hot sun during the day before the fireworks, so these promotional Patriotic Malibu Sunglasses are a perfect, cost-effective giveaway for your corporate event. Click here to read more about custom promotional sunglasses. Silkscreen your multi-color logo on both arms of this fun Fourth of July product.
2. Branded Stars & Stripes Six Can Cooler/Lunch Bag
You'll certainly be needing some cool beverages on the Fourth of July! Tote up to six cans in this branded Stars & Stripes Six Can Cooler/Lunchbag. Your logo will pop on the white pocket imprint area whether it's embroidered, silkscreened, or four color process printing. This cooler is ideal for Fourth of July parties or picnics.
3. Personalized Patriotic Beach Ball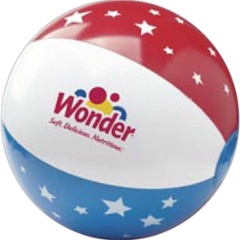 Having your corporate Independence Day celebration outside or at the beach? Patriotic promotional products like the  personalized Patriotic Beach Ball is a marketing tool that promotes fun as well as patriotism.
4. Logoed USA Pinwheel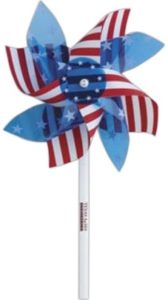 Add a little fun and spunk to your Independence Day celebration with the American made logoed USA Pinwheel! Put your brand message on an amusing, easy-going promotional product.
5. Custom National Foldable Flag Tote
Tote your Independence Day goodies in this custom National Foldable Flag Tote. This made in the USA item is great for gift bags, grocery shopping for the celebration, and handing out favors.
6. Promotional Patriotic Mop Topper Pen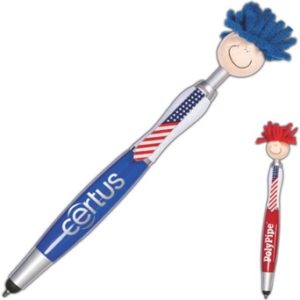 Get your name and brand message into the hands of your clients with the promotional Patriotic Mop Topper Pen. This promotion is as useful as it is silly-looking; the Mop Topper Pen is a stylus and screen cleaner. Use this twist on instead of just a regular promotional pen for this Fourth of July season.
7. Branded Patriotic Drawstring Backpack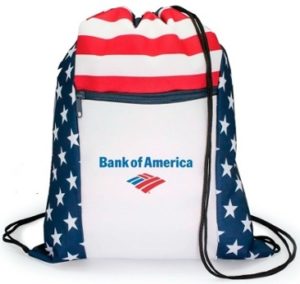 Drawstring backpacks are effective patriotic promotional products that are made to last. This branded patriotic drawstring backpack allows for logo imprinting on the front zippered pocket. Show off your patriotism with this cost-effective giveaway!