Corporate Promotion Ideas for Golf Outings
Corporate golf events can make for fun company outings, coworker bonding experiences, or charity events. Planning a successful golf promotional campaign will help turn a hole sponsorship into actual business.
Believe it or not, there are more promotional product giveaways associated with golf events besides the standard branded tee. Make your golf event stand out from others with unique, meaningful giveaways your guests will love. Below, you'll find a list we've compiled of creative golf event giveaways for your tournament.
1. Custom Wilson Mini Golf Bag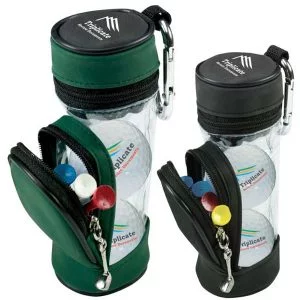 This compact golf kit will be a a huge success at your tournament! The custom Wilson Mini Golf Bag serves as a golf essentials set. It includes three logoed Wilson Ultra 500 golf balls, 5 imprinted 2 1/8″, and a metal carabiner. We especially love the miniature case that comes with your logo imprinted right on top.
2. Branded Repair Kit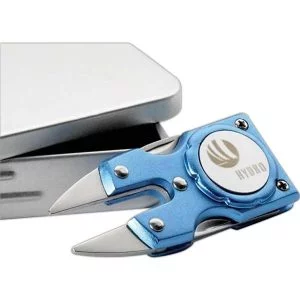 This sleek giveaway item is sure to impress your employees or clients. The branded "Golf Pro" is a tool kit that features a divot fixer, magnetic ball marker, file, and knife. Your logo or message will be laser imprinted in one location of your choice.
3. Promotional Golf Kit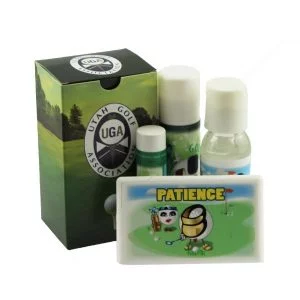 Rain or shine, it's important to wear sunscreen! Keep your clients and employees sun safe with this promotional golf kit that includes SPF 30 sunscreen stick. Imprinted with your logo on a custom box, the kit includes hand sanitizer, lip balm, and a plastic mint card.
4. Customized Golf Balls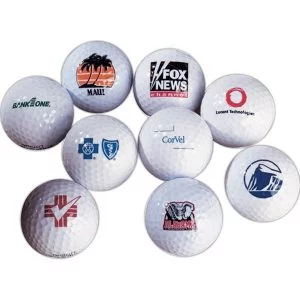 It may seem obvious, but using customized golf balls for your tournament is a great way to personalize your event. These golf event giveaways are perfect for increasing brand exposure naturally during the day's activities.
5. Logoed Slazenger Golf Bottle Pouch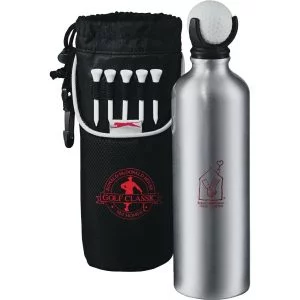 Make sure your clients stay hydrated during their long day on the course. The logoed Slazenger Golf Bottle Pouch comes with a 24 oz. aluminum water bottle, a 3-slot golf ball holder and ball, and 5 tee holding slots with some tees. Your logo will be imprinted on the front of the drawstring closure case.
6. Personalized Golf Towel

This simple giveaway will add a touch of elegance to your tournament. Your personalized Golf Towel provides ample imprint room for your logo. It also comes with a carabiner-style hook that is great for clipping on to golf bags.
7. Branded Golf Kit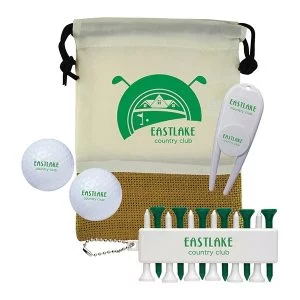 If you're looking for a cost-effective, branded golf kit, here it is! This handy pouch comes with two golf balls, a set of tees, and a divot ball marker.
8. Promotional Towel Holder with Magnetic Ball Marker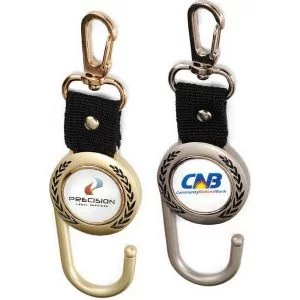 Attach this promotional Towel Holder with a Magnetic Ball Marker to your golf bag during your corporate tournament. Comes in fancy silver and gold colors. Imprint your logo with as many colors as you want.
9. Logoed Sunglasses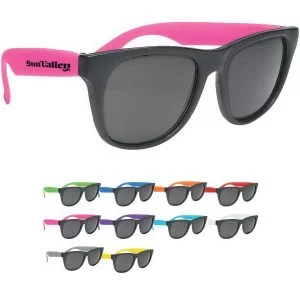 This simple, inexpensive product is a must have for anyone on a sunny, golf tournament day. Customize these logoed sunglasses by imprinting your brand image on arm colors of your choice.