Top 10 New Promotional Products from PPAI 2017
We recently made another trip to Las Vegas for the 2017 PPAI Expo. After wandering miles of aisles, we've come up with some of our favorite products. With so many different products and marketing impression angles, the industry has never had more options. The trend seems to be toward promotional items that have an increased usage value, like electronics or apparel, which means a higher target for most promo budgets.
Here are 10 of our favorite products from PPAI 2017.
Logo-Shaped Mints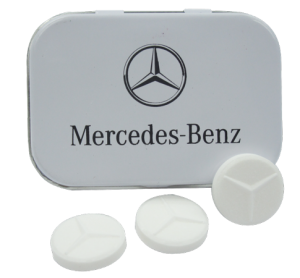 These custom shaped mints are great for highlighting your logo or making a custom shape for any industry. They are great mints and they are Made in the USA, which is a nice bonus. We are always looking for products to personalize each brand's image and this is a perfect fit for a corporate promotion or tradeshow giveaway.
http://www.tailormints.com/custom-shaped-mints/
Custom Cutting Boards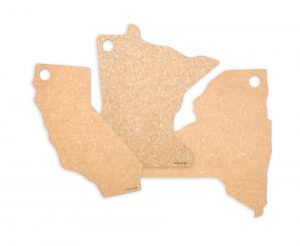 Epicurean a high end name brand for cutting boards.  This year at the Vegas promo show they introduced a line of cutting boards in the shapes of different states.  This is a great promo item to represent your company by location. A perfect welcome gift or holiday giveaway, it is unique and can be branded. At PPAI they showcased a California-shaped board with a Google logo on it. Depending on where you are from, find out if they have a state in your shape and it's a great way to build local pride with your employees and customers.
http://www.epicureancs.com/product/state-shape-series-cutting-board/
Shoes with Your Logo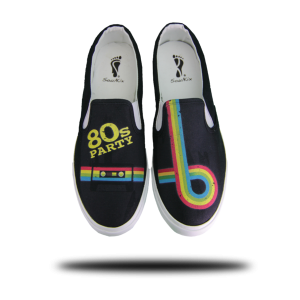 A throwback to the 80's, these shoes, called "chucks" are pretty popular with the millennial crowd. The concept behind these shoes is pretty simple, take a white polyester shoe and sublimate it.  .  These relatively inexpensive, full custom shoes could become a popular fixture for events or fundraisers. We'll likely see more of them in the future. Place an order now for 12 pairs for your team to wear at your next tradeshow.
Temperature-Sensing Coffee Mug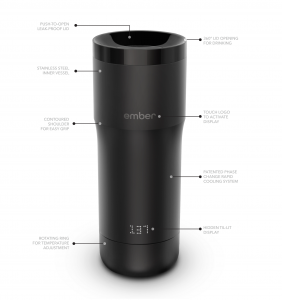 Because hot beverage temperatures matter. We found Ember to provide a unique product with a technological edge no one else has in the marketplace. You can connect your phone to the mug to give you temperature updates, so if you don't want to drink you coffee until it is exactly 142 degrees, you can set an alarm to do that! If you are temperature sensitive or just love checking new technologies, this is the perfect giveaway for your event or as a reward for your office team reaching a goal.
Branded Virtual Reality Viewer
Use a Bloo viewer to turn your phone into a virtual reality viewer. Simply download an app and it will allow you show certain videos and live feeds in a VR environment. This product is still so hot that it will be the hit for every party you attend for the next year. It is the ultimate long-tail impression product.
Wood Stickers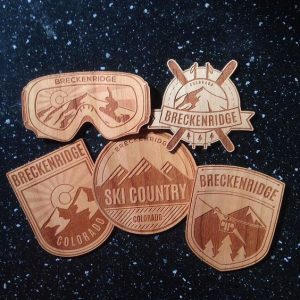 Combine a reusable product (wood) with the temporary tagging that comes with stickers and you get Wood Stickers. They combine impressive designs with a one-of-a-kind product idea to create the perfect stick-on branding element.
http://woodstickers.com/shop/custom-designs
BeagleScout Luggage Tracker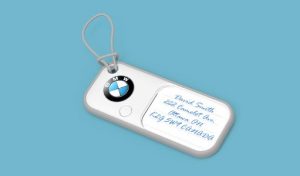 BeagleScout is a two-way bluetooth tracker that allows you to track your luggage and give you alerts as your bag moves closer on the carousel. You'll never be left guessing which bag is yours again. A great tech giveaway for conference attendees flying in and out of your meeting.
http://powerstick.com/main/beaglescout/
Boardroom Custom Clothing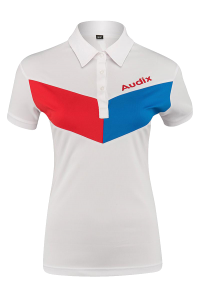 Boardroom has been a fixture of Canadian Clothing Manufacturing for years, but this year they really made a splash.  They had some mind blowing custom samples at the show with custom color blocking and full custom pieces that were really cool.  With fairly low minimums (under 50 pieces), this brand is a great chance to get a custom piece of clothing to really accent a corporate apparel brand instead of paying to advertise for a big retail company.
http://www.boardroomclothing.com/
Storm Creek IronWeave Jacket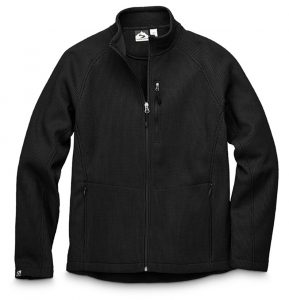 The Storm Creek Ironweave Jacket is the perfect addition to any corporate apparel program. It works great for layering with polos, t-shirts, or button downs and will make your team stand out from the crowd. Patterned after the Spyder jacket, this thick, sweater-like jacket is sure to impress your staff as soon as they feel it, but also leave a favorable brand impression for anyone that sees it.
Stainless Beer Bottle Holder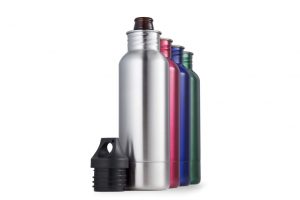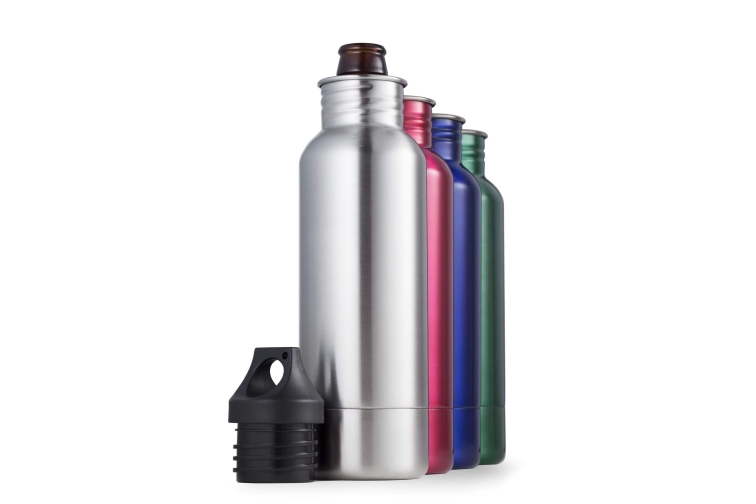 Stepping up a notch from the can koozie is the stainless steel beer bottle holder. Stop worrying about bottle sweat and control the temperature while you stand around no matter the outside or inside temperature. The product is also designed to keep tailgating and outdoor spaces safe by reducing glass breakage incidents.
ABOUT US
Think it Then ink it is a local, Madison promotional products and branded apparel company in Verona, WI. We build brands with logoed corporate, team, and event products from our vertically integrated design and fulfillment center. One of our unique capabilities is our specialized corporate branded stocking program that provides on-demand access to your customized products. Find out about our custom web apparel stores or our available products and services at ThinkitTheninkit.com or call us at 608-845-5300.