Top Products from ASI Chicago Show 2016
We're back from a quick trip down to Chicago to see some of the latest promotional product and apparel trends in the industry. We wanted to share a few of the things that caught our eye and left us Thinking about some of the possibilities for the future.
One of the great things about the Promotional Products industry is the constant evolution. Nothing is ever as it was. It is a field of creative minds not afraid to go against the conventional grain. We come home inspired by fresh ideas.
Here are 11  promotional products that stood out to us. Every one of these promotional items is customizable with a corporate logo or event insignia.
Totally Bamboo – Party Platter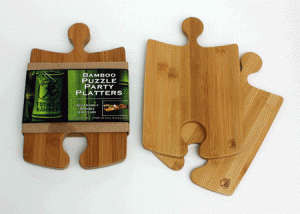 Lock together your customized cutting boards to form the perfect configuration for your kitchen setup. These would work great accompanying a holiday gift basket or at a cooking event. Take a look at some of the available products at TotallyBamboo.com.
Skully Leather – Leather Journal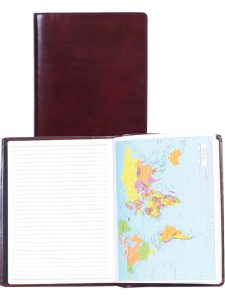 This leather journal can be literally branded with your logo. It becomes an instant sidekick for any stylish team member to tote around. It could be a thoughtful 'Thank You' for a conference speaker or a going away for a summer intern. Find more styles at SkullyLeather.com.
Rainstoppers Umbrella – Tournament Ready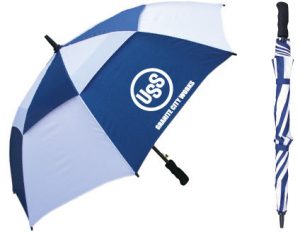 The PGA Champions Tour just completed a stop in Madison and we wish someone was handing out quality umbrellas like these. As far as promotional products go, umbrellas have some of the longest shelf lives. Don't miss out on a chance to impress a client. See more options at RainstoppersUmbrella.com.
Plugfones – Bluetooth Earbuds with Job Site Hearing Protection
This is one of the truly innovative products this year. For those that need to wear hearing protection on the job, there is finally an earbud that will allow you listen to music and keep your ears safe. Plugfones have a ton of options, but one common theme we keep seeing – tag a pair of these for each of your employees with your company logo and promote your safe culture. Find out more at Plugfones.com.
Pingline – Pig USB Drive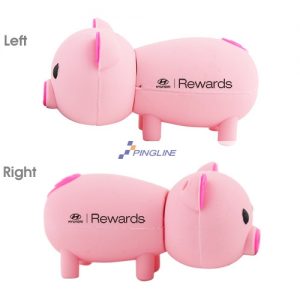 Flash drives are still popular, but Pingline has introduced some industry specific promotional USB drives to appeal to conference hosts. This pig can free stand on your desk until you have an urgent need for a flash drive. Simply remove the pigs head to reveal the USB connector. There are some really unique USB products at Pingline.com.
OrigAudio – Bluetooth Speaker and Charging Block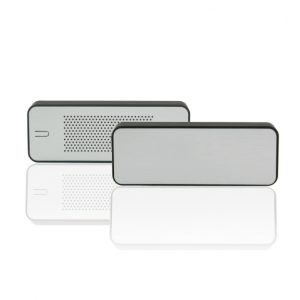 OrigAudio has a host of charging blocks and bluetooth speaker options, but this one stood out to us because it is both a charger and a speaker. What better way to thank an employee or a special client than with a speaker bearing your company's name. See some of the other models at OrigAudio.com.
Kelvin – 36 Function Multi-Tool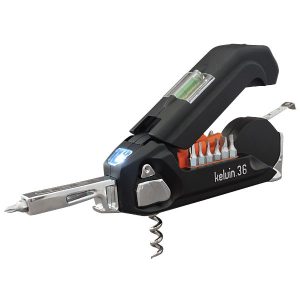 Kelvin has become to Leatherman what Under Armour has become to Nike. They entered the multi-tool market with something special this year called the Kelvin 36. While we see huge upside to the product and can see it becoming a staple of our large corporation branding program, we're mostly just glad they didn't ignore the often overlooked corkscrew. Well done Kelvin. See more at KelvinTools.com.
Helping Hands – Sustainable Bottle Opener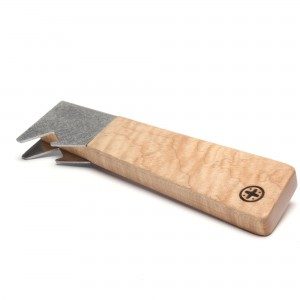 Helping Hands is an organic and sustainable-based promotional products supplier. They are kind of like the ETSY of the promotional products world in that they offer handmade products that moonlight as art. Check out some of their fine offerings at HelpingHandPartners.com.
Faribault Woolen Mill Company – Wool Coffee Sleeve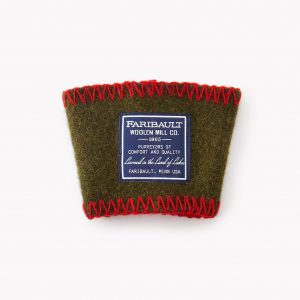 Giving an original twist on a centuries old product mix isn't easy, but Faribault Woolen Mill Company is adapting to our time. This coffee sleeve is a great example of a truly unique promotional item that would create lasting and engaging impressions for a long time. Check out more of their fine sheepware at FaribaultMills.com.
Crazy Aaron's Thinking Putty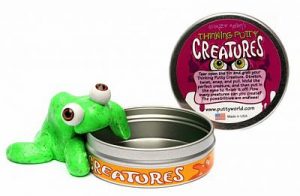 Crazy Aaron has come up with some signature putty products that are the perfect swag for any fidgety conference attendee. The putty comes in a can and is pliable without the drying out that comes from some putties. Plus, we love any product that has "THINK" in its name. See more wacky putties at PuttyWorld.com.
LogoCut Awards – Corporate Achievement and Sales Awards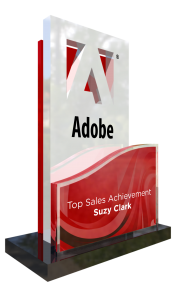 These classy trophies are customized for each occasion. Put your sales champs names on one and hand it out at the company party or acknowledge a significant achievement for a client or network provider. They have done some amazing awards and all of them are unique. We Think these are downright inspiring awards. See more examples at LogoCut.com.
Keep your ear to the ground and see if these products are resonating with you at all. We'd love to see some of these promotional products brought to life in the Madison market and we'd jump at a chance to be the provider.
Think it Then ink it is a promotional products and branded apparel company in Verona, WI. We build brands with logoed corporate, team, and event products from our vertically integrated design and fulfillment center. One of our unique capabilities is our specialized corporate branded stocking program that provides on-demand access to your customized products. Find out about our custom web apparel stores or available products and services at ThinkitTheninkit.com or call us at 608-845-5300.